A couple of weeks back, the groundhog predicted an early spring. I'm not entirely sure of his scientific accuracy, but I can tell you that my heart did a little happy dance to the news. I'm keeping a watchful eye on the tree limbs in search of tiny buds, scanning the ground for the first peeks of yellow daffodils, and listening, ever intently, for the sound of returning birds to the blue skies. I'm so very ready for spring's warmth to return.
I think it's the notion of "return" that captures my attention … the folding in of oneself, introspective and contemplative, to prepare for new growth and ideas. I suppose that concept has been so much on my mind that it inspired my yarn play for this month.
Cables really seem to capture the essence of that ebb and flow, moving out and then back in with the simplest of twists in the fabric. It's a captivating transition, texture rising off the fabric as if like the stems of flowers out into the sun from the earth. They remind me to move with the flow, to ride the waves, so to speak. And combining that romantic notion with the green colours of spring and well … you can see why I've gone all mushy.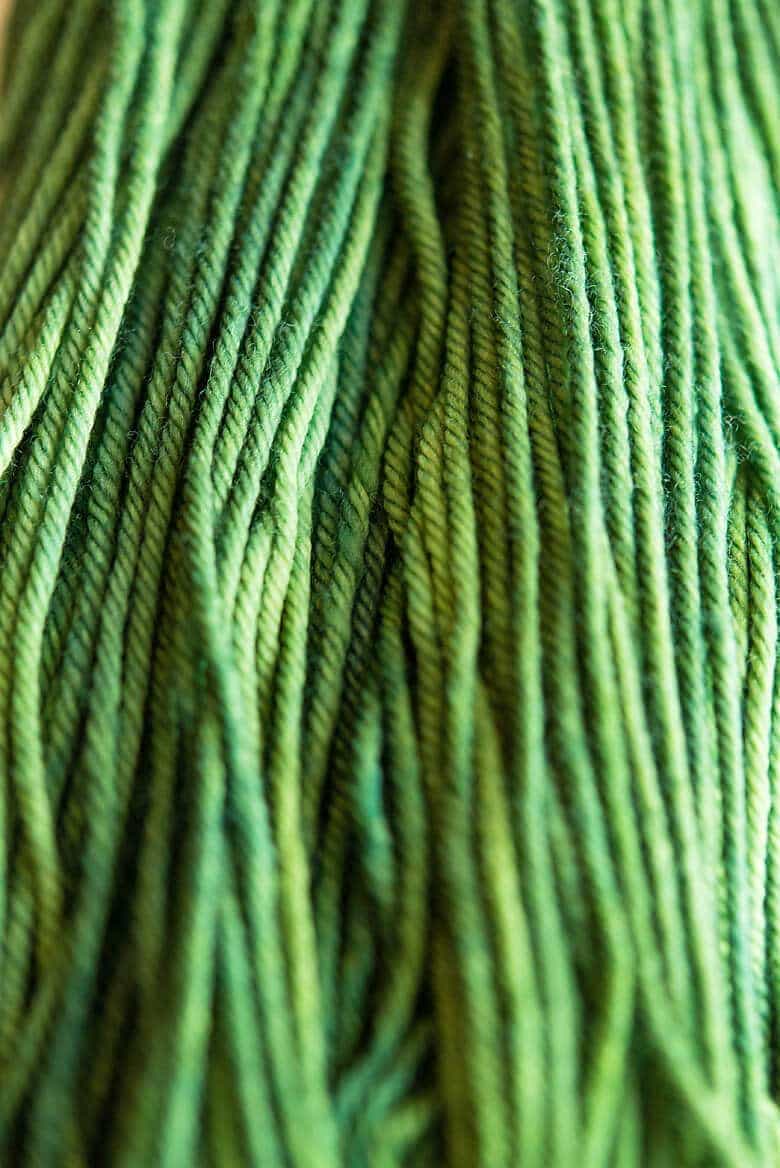 I swatched with our Superwash Worsted. With its beautiful lightness and gorgeous twist, it truly deserves to be everyone's favorite worsted. And I'm not just saying that because I'm biased! Grin! It's a yarn that is perfect for cables and texture, sucking up the stitches as if made for each other.
The stitch pattern I used is delightfully suited for the gentle variegated and semi-solid colourways we dye. The colourways used are Fern (semi-solid) and Woodland (variegated). Both colours seem to both melt into and highlight the textural stitches. It's a captivating effect. For this swatch play, I used size 6 US / 4 mm needles and I cast on 30 sts.
So, how would you like to play with the stitch pattern yourself?
Folding In (mult of 9 sts + 3)
Row 1 (RS): K1, *k-tbl, p2, k4, p2; rep from * to last 2 sts, k-tbl, k1.
Row 2 (WS): K1, p-tbl, *k2, p4, k2, p-tbl; rep from * to last st, k1.
Row 3: K1, *k-tbl, p2, 1/1 RC, 1/1 LC, p2; rep from * to last 2 sts, k-tbl, k1.
Row 4: K1, p-tbl, *k2, p4, k2, p-tbl; rep from * to last st, k1.
Repeat Rows 1 – 4 for pattern.
I would LOVE to see your results. Feel free to share them on Instagram, Facebook, or Ravelry by tagging them with #sweetgeorgiayarns or #colourfulplayfulstitches.