When I lived in Colorado, I had three huge, and I mean HUGE, lilac bushes in my front yard. Spring wasn't a "real" season for us in Colorado, because it snowed so much until May, but just towards the end of that cold, wet season, before the lure of summer showed up, the lilac buds would start to push open. Whether despite the cold or in spite of the cold, the soft purple petals would tease themselves into a gentle bloom and the air would be filled with a fragrance that was truly remarkable.
I can close my eyes and remember that aroma right now. Surrounded by dark green leaves that looked a little unwieldy and walnut brown twigs that would grab at your hair as you walked past, those gorgeous petals would brush against your skin like the gentle allure of a lover. An intoxicating perfume that filled the senses to fantasies only your heart could dream up.
Picking up Lilac in Bulletproof Sock takes me right back there. Delicate, yet so, so tough. Our dye team at SweetGeorgia are like magic workers (I truly believe this) and their ability to harness that wonderous depth of the lilac flower into a colour? They nailed it. Soft, tonal, and delightfully complex … I can almost see the wind brushing across the blooms to carry the petals into the sky.
The stitch pattern I used reminds me of that windswept scene. Using US size 3 needles, the eyelets dance across a rhythm of ribbing that is light and lilting. Give it a try!
Falling Petals (mult of 6 sts + 2)
The stitch instructions include a selvedge stitch.
Row 1 (RS):K1, *k1, p1, k1, p2tog, yo, p1; rep from * to last st, k1.
All Even Numbered Rows (WS): K1, *k1, p1; rep from * to last st, k1.
Row 3: K1, *k1, p1; rep from * to last st, k1.
Row 5: K1, *k1, p1, yo, p2tog, k1, p1; rep from * to last st, k1.
Row 7: K1, *k1, p1; rep from * to last st, k1.
Repeat Rows 1 – 8 for pattern.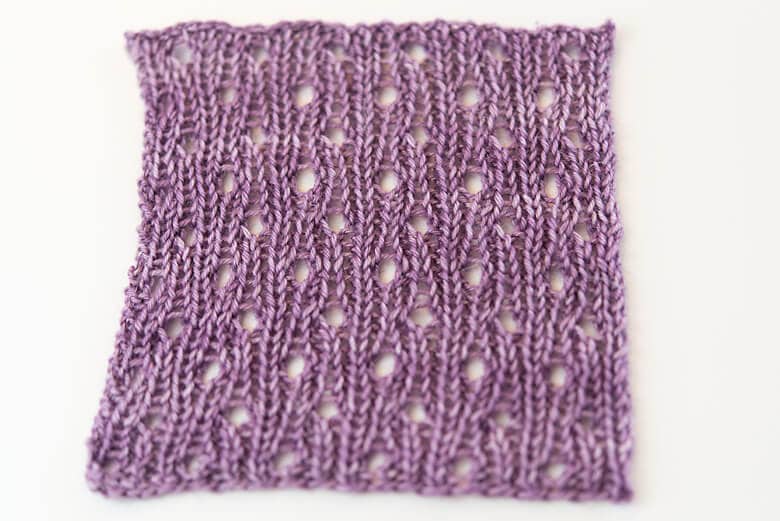 Now that spring is peaking around the corner here at my new home in Tennessee, I am stalking the local nurseries for lilac bushes that I can plant here. Tell me – what is your favourite spring flower and why?