This month has been full of illness and tight timelines. Where is this year going already? I sat back, looking at this month's club and felt very torn about how to spin it. I love spinning BFL + Silk as a fine 3 ply because of the resulting 'roundness' of the yarn. Felicia recommends chain- or Navajo-plying the fibre this month to keep the colours together since no matter how this colourway is spun, it will turn into a gentle pastel due to the degree of white or undyed fibre in the braid. I love this effect and particularly love the variegated aspect that this can create! In the end, I decided to only spin half of the braid into a chain-ply and have 'saved' the second half to spin as a traditional 3 ply (or maybe a 3-ply fractal) to be able to compare the differences between these yarns. Unfortunately, with life this month, I wasn't able to finish the second half but I'll show it when it's finished!
Upon studying the above photo, one can see how muted and pastel the colours become after spinning but what I like about this is the gentleness of it! I'm actually hoping to weave with this skein to create a stole or wide shawl. More spinning for more yarn is in my immediate future to be able to create this stole!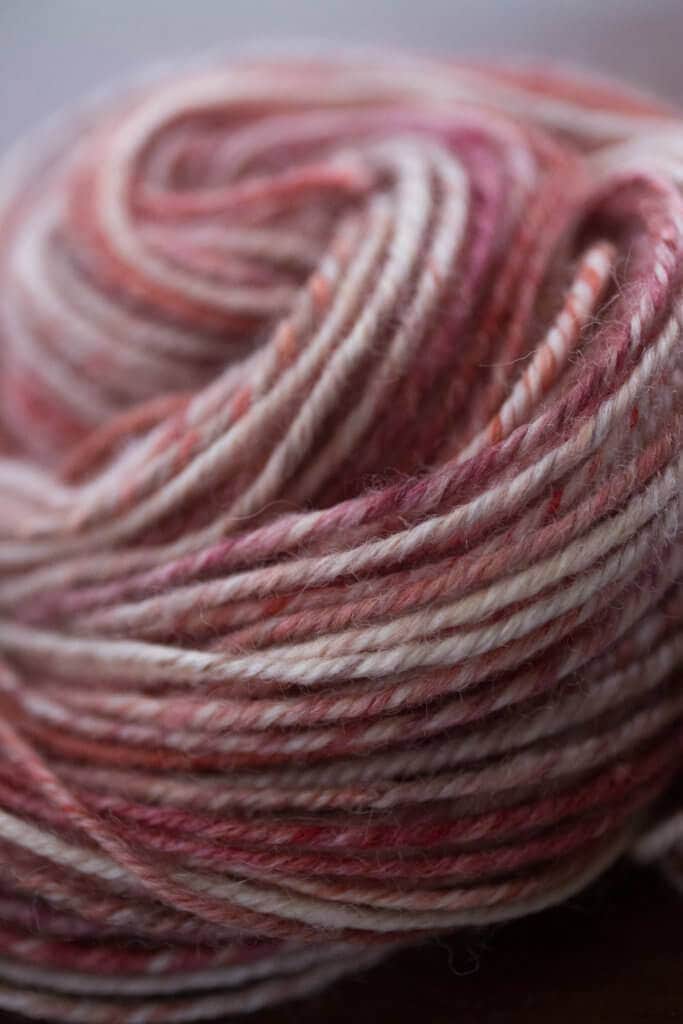 The BFL + Silk content of this fibre creates a beautiful sheen. I just love BFL + Silk so much! I used a short forward draw, smoothing the fibre as I went and creating a worsted yarn. I kept the twist in the singles to a minimum by spinning on 8:1 and drafting once per drive wheel rotation. For plying, I used 15:1 and placed a significant amount of twist into the yarn to make a slightly stronger warp yarn.
This yarn balanced after washing and has a lovely drape. For these higher twist yarns, I like to soak them and hang them to dry. Generally, they are balanced once they are dry, as this skein was for me!
Have you delved into February's club yet? How are you spinning it? Please share over on the Ravelry group or Instagram, and tag your projects with #sgyclub and #sweetgeorgiayarns.
Until next month – Happy spinning!