SGY: Tell us all about Die Mercerie and the history of the shop. How long has it been around, how did you get started with it and how did you decide on the name?
DM: I opened the shop in March 2013 after two years
of research on perspective suppliers, researching possible locations and what feel and atmosphere the shop
should have.
I wanted to create a comfortable and contemporary meeting space where knitters and craft people could meet, drink coffee and exchange ideas surrounded by beautiful, unique yarn, quality tools and exceptional accessories.
The name was a difficult decision as we wanted a name that encompassed the whole spectrum of textile craft. The name Die Mercerie is an old word for haberdashery and was my husband's idea!
SGY: What is the yarn and fibre / knitting and crochet scene like where you are, and in Germany? Are your customers primarily knitters or do they do other fibre arts as well such as crochet or spinning or weaving? What sorts of projects do they like to do? Lace? Shawls? Sweaters? Socks? etc…
DM: We have a wide range of customers encompassing every age and ability. Our customers have varied interests and we offer courses to cater for everyone from beginner courses
in knit, crochet and embroidery to finishing and special technique courses.
The majority of our visitors are knitters but we have a few crochet experts and embroidery lovers and a couple of hand spinners.
Shawls are very popular as well as pullovers and cardigans. We develop our own patterns with the yarns we stock and this encourages people to try new projects. It helps to be able to try the item on before taking the plunge to knit a garment for the first time.
SweetGeorgia sock yarns are loved by our sock knitters who regularly visit for new colours! The yarn has also been discovered by cardigan knitters who like the clean look of the yarn which works well for seed stitches and cables.
SGY: You carry our Tough Love Sock. What other yarns do you carry and how do you decide what you will have in the shop?
DM: The colour and feel of a yarn is what attracts me to begin with. The origin of the materials and the animal welfare standards are also very important factors in our selection. I am always looking for new and exciting qualities and suppliers and I cooperate with small spinners to create original yarns especially for Die Mercerie.
We carry a wide selection of yarns including Brooklyn Tweed, Quince and Co., Woolfolk, Madelinetosh, Habu and The Fibre Company to name but a few.
SGY: What is your favourite thing about being a yarn shop owner?
DM: Meeting lots of creative individuals and seeing the many and varied projects is a wonderful experience. I originally trained as a needlework teacher, I love to teach and so I lead the beginners course in store. I am always satisfied when a beginner has successfully completed their first swatches and they can independently experiment and create. I enjoy seeing people becoming more confident and experimenting with new techniques. Passing on my enthusiasm for textiles is very rewarding!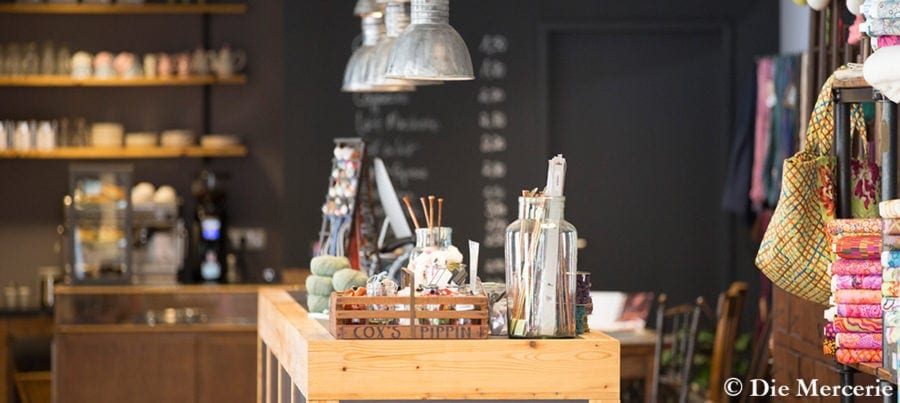 SGY: What is your own favourite thing to knit or crochet? What type of projects do you love best?
DM: I love knitting especially cardigans und pullovers. I enjoy developing ideas for our new collection, knitting a crazy design from Stephen West or a new favorite item from Brooklyn Tweed or Woolfolk…
SGY: Do you have a regular knit or stitch night in the shop?
DM: We have a coffee area in store and welcome knitters at anytime. However we have regular groups that meet on Wednesday afternoon and Saturday morning.
SGY: For visiting yarn lovers, what other things to see and do in Munich do you recommend?
DM: For those who like fabrics and interior decoration, Radspieler is definitely worth a visit. The shop it's self is an older building with interesting architectural details. The Glockenbach Viertel is exciting, and there are lots of small independent shops and cafes to explore.
SGY: Any other exciting news that you'd like to share?
DM: Our Die Mercerie knitting patterns are now available to buy individually from our web shop and from Ravelry.