Happy New Year!
It's just under a week into this new decade and we are ready to go. We hope you enjoyed some quiet relaxation and rest over the holidays, and like us, are eagerly looking forward to what the new year will bring!
If you're wanting to try something different with your project planning this year, we hope you'll join us on a 2020 Make Your Own Nine challenge! The idea is to choose nine projects you want to complete, plan them out, and at the end of the year revel in your success.
If you ever find yourself in a rut with your knitting or sewing, this can help break through any creative blocks, burn-out or boredom. But where to start? Luckily, Tabetha Hedrick is here to help you plan your Make Nine step-by-step in our new School of SweetGeorgia workshop. We hope you'll take this opportunity to not only create your own clothing and accessories, but push yourself into new creative directions: try new techniques, learn new skills, and have a great year!
Click here to Plan Your Own Make Nine, and we hope you enjoy a fun year of exploring your creative side!
New Sock Yarn Blank // Snow Queen
A frost-kissed rose in the early waking hours, a whisper of winter, is an enchanting vision. Our creative studio team has captured that essence with the stunning new Snow Queen sock yarn blank. Cool aqua, cream, and lavender flow into chocolate and orchid as gracefully as snow settles onto our quiet garden bed, promising a colourful escape as you knit the winter away.
The first of our limited-edition sock blank series for 2020, sock blanks provide a unique way to dye colour gradients seamlessly as we dye directly on the knitted fabric. Knitting or crocheting from a sock blank is "crinkly," but the crinkles block out perfectly for a smooth, beautiful finish, ensuring you have a magical colour-changing experience.
*Note: Sock Blanks are shipped in a machine knit stockinette stitch tube. 
The dyed gradients on these sock blanks work beautifully in a variety of projects from knitting and weaving to crochet. If you're looking for what to make with your new sock blank, take a look at patterns: Eskra, Colour Crests, Kodila or Attu, as well Solna (shown above), which was recently crocheted by Charlotte at our studio.
Click here to get your Snow Queen Sock Yarn Blank today >>
Now Hiring at SweetGeorgia!
We are hiring! We're on the search for a new Customer Care Associate & Administrative Assistant to join our team at the Vancouver SweetGeorgia studio.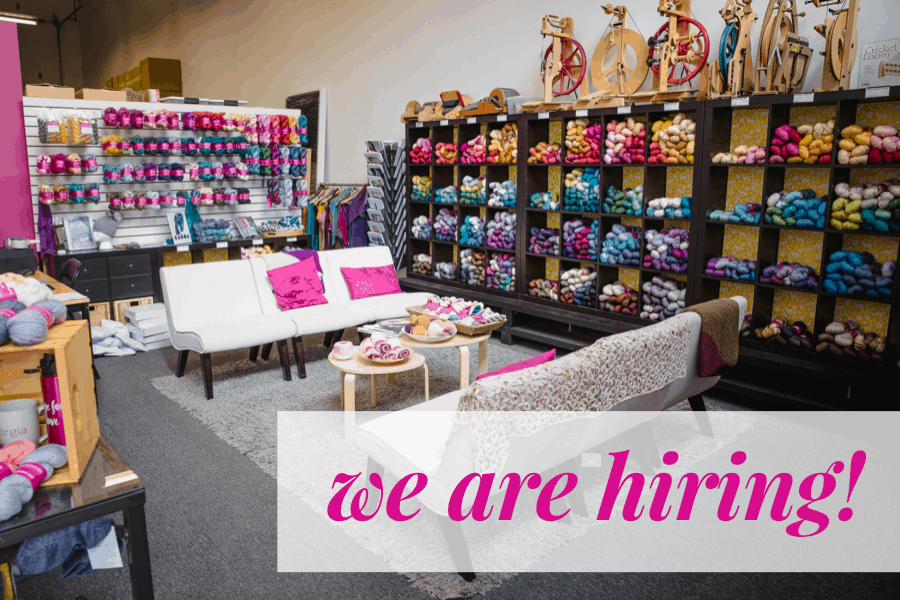 We love each and every one of our customers and want to do our very best to ensure their happiness. It's a big job. And it's quite a varied job too — one that requires a lot of different skills and abilities. You'll be the first person that customers connect with when they visit or call the studio or send an email, so you'll also be responsible for making sure that all our visitors are greeted with a smile and that the storefront is always tidy, stocked, and welcoming. You'll also be providing comprehensive administrative support to our team at SweetGeorgia (both in-studio production team as well as our off-site sales reps). This includes everything from making sure that all our customer orders are entered swiftly into our accounting and production tracking systems to preparing occasional shipments.
If you, or someone you know, would be suited to joining us, we'd love to get in touch! Click here for the job posting details and to apply.
Wishing you an inspirational start to the new year!