We're so excited to let you know that one of our most popular events of the year has now arrived. It's time for our 2020 Mystery Bag Sale!!
We take great pride at the SweetGeorgia studio in making beautiful hand-dyed yarns which are also reliably consistent from batch to batch. With high standards of quality control, we inevitably end up dyeing yarns that don't match these quality goals. We've also had a lot of fun experimenting with different colours and/or dyeing on bases we don't normally carry as part of our core yarn base collection, and now we get to share our dyeing fun with you with our Mystery Bag sale!
In this year's sale, we have several different yarn bases packed and prepared so you can select just the right yarn weight you are looking for. Our sets range from lace weight to fingering to worsted, with all bags containing 2 skeins in your selected yarn base.
We have available two types of mystery bags available. Our "misadventures" mystery bags include skeins that might have either light or dark spots – skeins that didn't quite make the cut. Then our "past prime" packs include skeins in retired colourways or ones that have been waiting for a new home for sometime now. The mystery will be that you won't know which fabulous colours are in the bag!
Please note this is an online sale only! Mystery Bags will not be available for purchase in our front shop – we ask you to please place your order online first, and we will email you once your order is complete and ready for pick-up.
Limited quantities available! They sell out super fast… so hurry! Shop the Mystery Bag Sale here!
Items Soon to Disappear!
We also want to let you know about two limited-edition items which are soon to disappear from our SweetGeorgia Yarns website! First is our limited-time sock yarn blank, Snow Queen!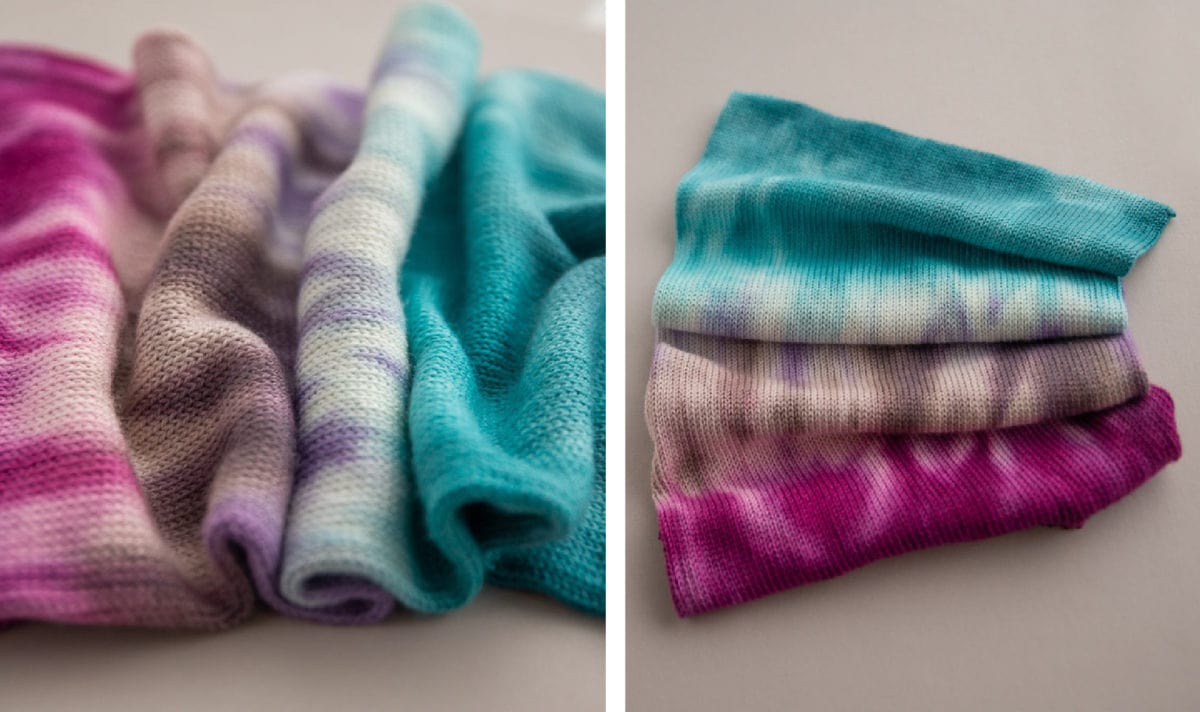 Snow Queen is the first of our limited-edition sock blank series for 2020. Sock blanks provide a unique way to dye colour gradients seamlessly as we dye directly on the knitted fabric. Knitting or crocheting from a sock blank is "crinkly," but the crinkles block out perfectly for a smooth, beautiful finish, ensuring you have a magical colour-changing experience.
Click here to shop the Snow Queen Sock Yarn Blank before they disappear!
Next is our SweetGeorgia Party Packs!
Only available until the end of February, don't miss our full-skein gradient yarn sets, SweetGeorgia Party Packs! Similar to our Party of Five mini-skein sets, but in Party Pack size, these full skein sets offer additional yardage for knitting that gradient tee, cardigan or sweater you've always wanted. Available only on our best selling Tough Love Sock fingering-weight yarn base, this yarn knits up beautifully into fine-gauge sweaters and shawls, or would work perfectly in any new weaving project too.⁠ ⁠
Click here to see all six colour options – get yours before they're gone!