While we know cables are warm and thick (and add a dazzling array of texture to the fabric), one of our favourite aspects of cabling is the ability to shift colours. Simply by swapping the position of a few stitches, the speckles and tones of our yarn take on a whole new dimension.

In our new limited-edition set, Stitch Diaries: Season Two, we're going to play with a few different cable arrangements to see what they look like in a variegated yarn. With the exclusive Tabby Café colourway and a custom top-down sock recipe, we'll experiment with direction, height, and depth. How far can the colours go? How much do they blend in or stand out from the background? We'll test our theories out over six unique cable stitch patterns and a top-down sock recipe.
The new Season Two set includes:
A custom colourway imagined and dyed by one of our SweetGeorgia dyers, Hoi Chan: Tabby Café on Mohair Silk Sock
A coordinating semi-solid: Campfire on Mohair Silk Sock
16-page half stitch dictionary and half pattern recipe booklet with 6 stitch patterns and a Top-Down Sock Recipe by Tabetha Hedrick
Camp Candle Co. soy & coconut candle
Fox & Pine Stitches point protectors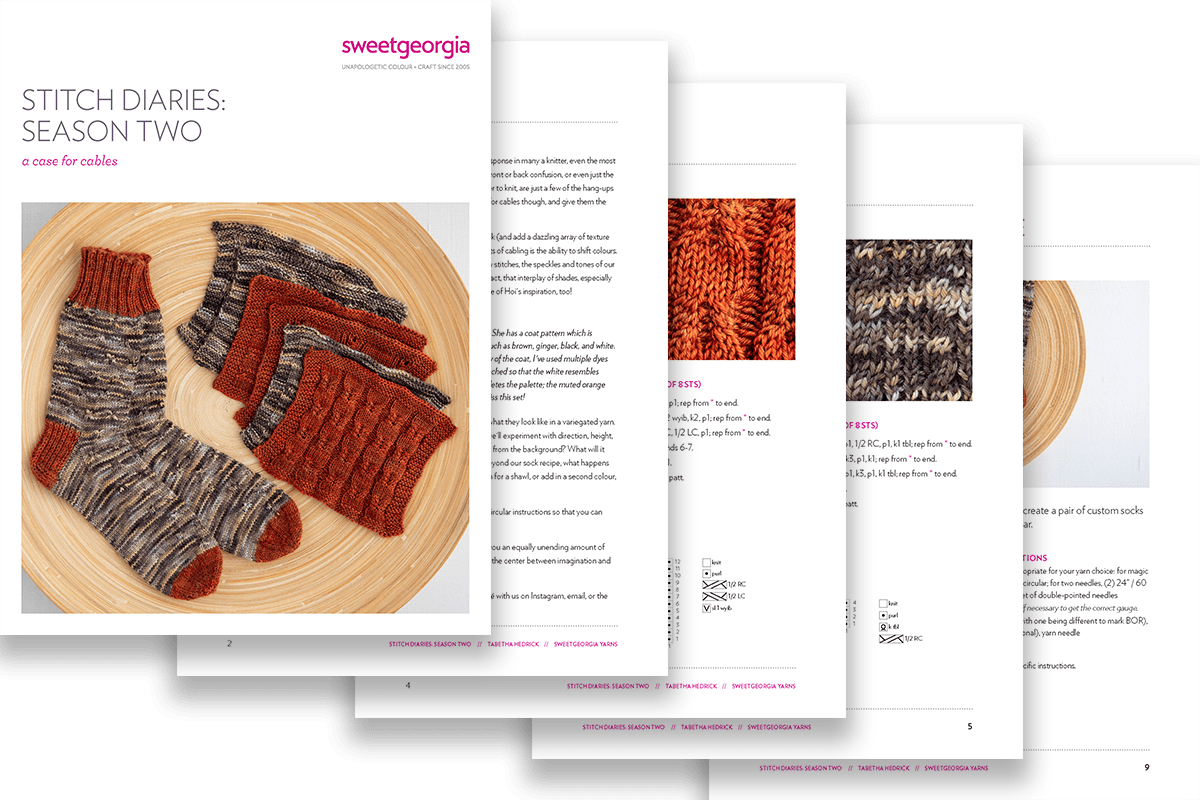 This series highlights the team of dyers at SweetGeorgia with unique hand-dyed hues sharing their own inspiration and colour story. This second colourway feature was created by: Hoi!
Hoi's colourway, Tabby Café, is a colour that's based on his cat, Coffee. She has a coat pattern which is named—you guessed it—Tabby! Coffee has a large variety of colours in her fur, such as brown, ginger, black, and white, and we cannot get over how fabulously Hoi's colourway matches his sweet cat!
If you've always wanted to learn how to knit cables, this is a great starting place, but even better is my Cables 101 course on the School of SweetGeorgia. In it, you'll learn everything you could possibly want to know:
What is a cable
The tools you'll need to achieve cable success
How to read cable abbreviations and cable charts
How to knit 3, 4, and 5 stitch cables
How to knit without a cable needle
How to fix cable mistakes
Yarn, candles, cats, and fun little stitch patterns? Can there even BE a better set to get for the knitters in your life? I don't think so. Grin!