You might have seen our 'Round the Colour Wheel Make-Along announcement last week (get ready! We start May 16!) and that might have gotten your project wheels turning. Or maybe you need some colour palette inspiration? Either way, I thought it'd be fun to talk about different colour palettes you can experiment with. This week, let's focus on the no-fail analogous colour palette.
What is an Analogous Colour Palette?
Analogous colour palettes are created by selecting colours that are adjacent to each other on the colour wheel. This creates a cohesive colour scheme that can be pleasing to the eye and conveys a sense of harmony and unity. It's also really easy to put together, which is useful for beginners who might not have a ton of experience with colour theory.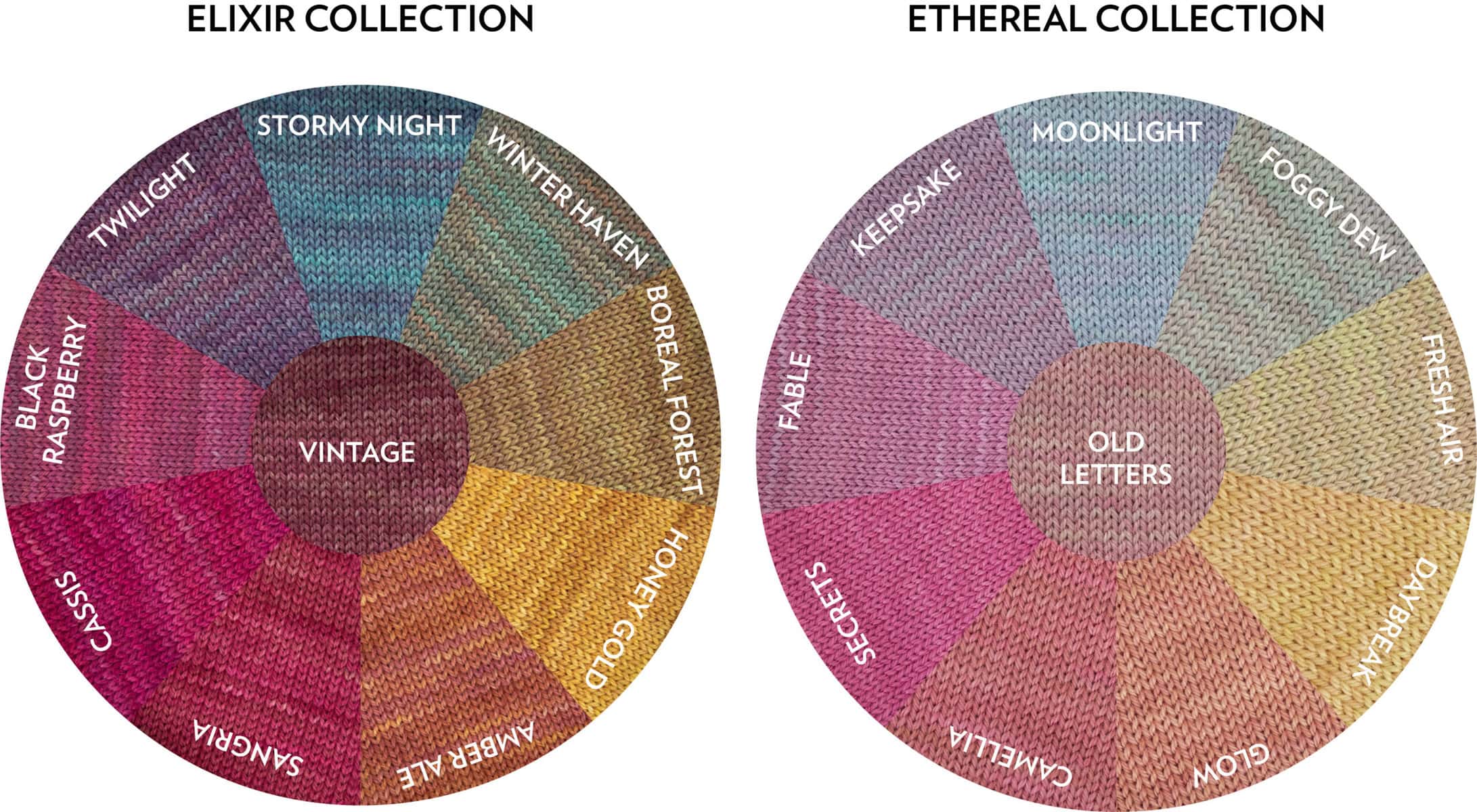 If we take all the colours in our Elixir Collection, and drop them onto a wheel, you can see what I mean. Stormy Night is right next to Twilight, so those two hues are considered analogous. (PS—Vintage is all the colours combined, so it totally counts as an adjacent colour for any of them).
Or, if you drop all the Ethereal Collection into a wheel, you'll see that Daybreak and Glow are analogous (PS—Old Letters is also a bit of all the colours, so same rule applies).
Sometimes, they can lack contrast and may not be as attention-grabbing as other colour schemes. That creates some limits to complexity in a design. Don't let that scare you off, though. By playing with saturation and brightness, you can come up with some fabulous options.
I've got some simple tips you can use right now to create an analogous colour palette.
Choose a Dominant Colour
Begin by selecting a dominant colour for your design. This will be the primary colour that sets the tone for your palette. Look for a colour that you want to feature prominently, and that you feel will be most effective in conveying your intended message. Let's use Honey Gold from Elixir as an example. Maybe Camellia from Ethereal as another dominant colour option.
Select Adjacent Colours
Once you have your dominant colour, look for colours that are adjacent to it on the colour wheel. These colours will complement your dominant colour and create a harmonious colour scheme. You can select 2-3 adjacent colours to create a simple analogous palette or more colours for a more complex palette.
If you look at Honey Gold on the wheel, you have a couple of nearby options and each one has a unique feel:
Honey Gold, Boreal Forest, and Amber Ale
Honey Gold, Boreal Forest, and Winter Haven
Honey Gold, Amber Ale, and Sangria
Look at how Camellia, as a dominant colour in Ethereal, can reflect a different mood by leaning into different adjacent colours:
Camellia, Glow, and Secrets
Camellia, Glow, and Daybreak
Camellia, Secrets, and Fable
Experiment with Different Saturations and Values
To add depth and interest to your colour palette, experiment with different saturations or values of your chosen colours. For example, you may want to select a lighter shade of your dominant colour for a background or use a darker shade for accents. This will help to create a more dynamic and visually interesting design.
This is the fun of two different colour wheels built with the same hues. Ethereal is a less saturated version of Elixir (did you know that?). So, let's say we work with some colours between the two. Check out how Sangria looks as the dominant colours in these two variations, paired with Camellia, the less saturated version of Sangria. And then, I took one of the adjacent colours to Camellia to bring it all together:
Glow with Camellia and Sangria
Secrets with Camellia and Sangria
Both exuding that luscious red feel, but one with a lovely gold hint and the other leaning more into magenta.
Test your Colour Palette
Once you have your colour palette, test it out in different contexts to ensure that it works well for your intended use. Work up some colour swatches with different stitch patterns and see how they play together.
Hopefully, these steps show you just how simple and fun putting an analogous colour palette together can be. Whether you're into knitting, crochet, weaving, or spinning, if you want to take your colour theory skills to new levels, be sure to check out all the colour courses we have in the School of SweetGeorgia. In the meantime, review some colour wheels, choose your favourite colour, and test out the hues next to it. Have fun!