our team
Though filled with love and passion, hand-dyeing yarn and fibre is an exacting, labour-intensive process that needs the hands of many. We're a small but scrappy team committed to bringing light and joy to people's lives through unapologetic colour. Meet the wonderful group of people who bring our colours and yarns to life.
Felicia Lo
Founder & Creative Director
Felicia is a designer and entrepreneur, born and raised in Vancouver, Canada. Her lifelong passion for knitting, colour, and design led her to starting a blog in 2004. A year later, SweetGeorgia was founded at her dining room table with nothing more than three skeins of sock yarn for sale on Etsy. Since then, SweetGeorgia has become a way of life where work and play are inseparable. When she's not playing with yarn, she's chasing her two littles around with her Oranje-loving husband.
Hubert Mock
Production Manager
From the early morn to the evening song, Hubert could be seen either frolicking through the studio floor or, perched on his red chair in his corner lair, picking away at a little bit of this and a little bit that — all in the effort to keep the place humming. He loves organizing everything to make it just right (except his desk looks like it just got hit by a west coast storm) and he derives great pleasure from the sense of completion that comes from getting your orders filled and out on its way to you. When he himself makes it out of his SweetGeorgia burrow, you may find him enjoying one of the local scenic hiking trails with his family and friends.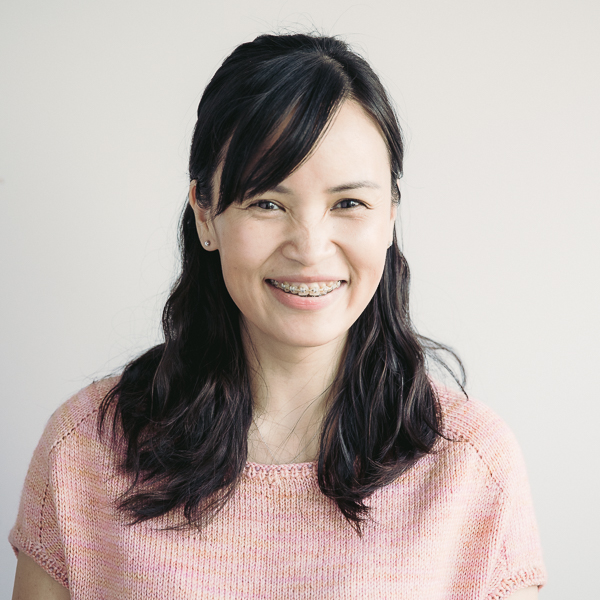 Teresa Mock
Sales Operations Manager
Teresa joined SweetGeorgia in the summer of 2011 and since then she has had several different roles including studio assistant, dyer, production manager, bookkeeper, and now Retail Operations Supervisor. Working at SweetGeorgia allows her to spend more time with her little one while the older two are at school. The most challenging, yet also enjoyable part of her day is 4:00pm… when all three kids are together.
Tabetha Hedrick
Design & Editorial Director
Tabetha lives by the belief that joy comes when fully participating in the present moment. And that joy is ever so easy to find when immersed in the world of fibre! When not knitting, writing, editing, or researching, she fills the time raising two girls, two dogs, and one husband in Tennessee.
Brigid Zurock
Marketing Manager
Brigid grew up around knitting and textile arts, first learning to crochet from her Grandmother at a young age. A proud Estonian, she is greatly inspired by the handicrafts and folk patterns of her heritage. Come weeknight or weekend, and you can likely catch Brigid folk dancing, singing, tearing up at something that's "oh so sweet and lovely", taking part in a local Estonian event, or hanging about beautiful Vancouver with family, friends and her Frida pup.
Charlotte Lee
Assistant Production Manager
Ever since Charlotte attended a four-session crochet class in grade 9, she has been fascinated by the world of fibre. She is interested in almost all kinds of fibre arts: from crocheting and knitting, to needle felting, spinning, and weaving. The biggest enjoyment of life for her is to craft with friends, where teas and sweets are provided. Initially joining the studio as a precision dyer, today Charlotte is the Assistant Production Manager at SweetGeorgia.
Anita Lee
Customer Care Associate & Administrative Assistant
Greta Cornejo
Education Program Coordinator
Greta has a Bachelor of Science in Chemistry from the National University of Mexico (UNAM). She started her textiles obsession when she learnt to knit in 2010, followed shortly by spinning in 2013. She is passionate about lifelong learning & crafting. The best part of her job is working with the teachers to bring their classes to our School of SweetGeorgia community & keep learning all the time.
Good food, good coffee and good tea are always a priority as well as crafting, reading and classical music.
She shares life in the Greater Vancouver area with her knit-worthy family: her wonderful and supportive husband & 5 amazing kids.
David Chung
Senior Precision Dyer & Shipping Assistant
David graduated from Vancouver Community College with 2 trade certificates one being in culinary and the other being in automotive painting. He started with SGY in 2012 as a packager, but he is now our main precision dyer. David is amazed at how the colours layer on the yarns and fibres and is always excited to see new colours be born each season.
Although David has tried his hands on knitting, he will choose playing games, fellowshipping with friends and looking at cars any day.
Hoi Chan
Precision Dyer & Studio Assistant
Hoi graduated from Emily Carr University in 2018, and has been working at SweetGeorgia as his first job. Since working at SweetGeorgia as a dyer, he has learned many colour combinations and colour theory to help develope his own artmaking. His artistic skills also play a part in creating the very vibrant, unapologetic colours yarns of SweetGeorgia's. Hoi has an aspiration to become a full artist, but is constantly being distracted by video games and movies. His goal now is to continue to bring more colours to the people, both as hand-dyer and as artist. Hoi likes to create watercolour paintings and pencil drawings. He is a cat lover and enjoy reading horror stories.
Leah Churchley
Video Editor
Leah has a Bachelor of Arts and a Diploma of Applied Linguistics from the University of Victoria. She enjoyed many years as an English teacher before joining the SweetGeorgia team to help develop the School of SweetGeorgia. She started knitting in university as a way to cope with anxiety and was instantly hooked. Leah is a firm believer that colour and crafting is an essential part of a healthy, happy lifestyle.
Leah's favourite things in life are: cats, yarn, washi tape, bubble tea, and bad horror films.
Eugene Mock
Packaging & Studio Assistant
Yammie Cheung
Kits Production & Studio Assistant
A mother of two lovely boys, Yammie originally joined SweetGeorgia in 2015 as a part time packager. She is now the main team member in our kits production to wind and package your Party of Fives. Working at SGY has rekindled her passion for knitting except this time, it's with much more luxurious yarns and complex patterns. Her family members are always receiving knitted gifts.
kathy thai
Precision Dyer, Studio Assistant, Video Editor
Rachael Lee
Kits Producer & Studio Assistant
Mollie Rath
Precision Dyer & Studio Assistant
Victoria (Vikki) Zachanowich
SOS Community Moderator
Robyn Gibbons
SOS Community Moderator
JOB OPENINGS
work with us
While what we do and how we do it is quite specialized, we provide training and will work with you to develop your skills and grow your responsibilities with us. We believe in living our passions, continually learning, and tangibly impacting the lives of others. Check out our current available positions here and if you see one you are excited about, get in touch with us!